Ticket Sales 
Purchase Tickets Online -  http://www.tktassistant.com/
Purchase Tickets at Box Office -  Tickets can be purchased at the Box Office the date of the performance,  you can reserve your seat by calling the theater 315-337-5920 one hour prior to the performance time or at any other time and leave a message.  Season ticket holders get the privilege of sitting in the same seats for all of the shows.  Reserved seats are filled on a first come, first served basis.
                                                      <![if !word & !ppt & !excel & !vml]>
<![endif]>
Box Office Cost:  Adults - $15   Children under 18 - $10
All Tickets are nonrefundable
Reservations are Strongly Suggested
Reservations can be taken starting one hour before each show. 
Or call the theater any time and leave a message
315-337-5920
Season Ticket Information for 2021-2022 Season
■ Click here for the 2021-2022 Season Ticket Form ■
or
Mail form to:
Rome Community Theater
PO Box 91
Rome, NY 13442
Click for larger view<![if !word & !ppt & !excel & !vml]>
<![endif]>
<![if !word & !ppt & !excel & !vml]>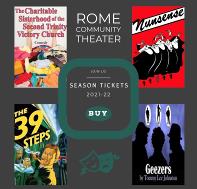 <![endif]>
2021-2022 Show Schedule
■ RCT Calendar ■
   2021
The Charitable Sisterhood of the Second Trinity Victory Church (Comedy)
December 10, 11, 17, 18 at 7:30
Dec 12, 19 at 2:30
Storms have flooded the roads, but it takes more than a little rain to keep the Charitable Sisterhood of Pennington Gap, VA from fulfilling their mission. When these ladies meet to organize a relief effort for homeless Guatemalans, they are greeted with a mountain of community donations – & that pile of stuff is hiding a thing or two. Join us in the church basement, where our five angels of mercy will leave you breathless with laughter as they do their best to save the world, and each other.
 
   2022

Nunsense (Musical Comedy)
February 11, 12, 18, 19 at 7:30
February 13, 20 at 2:30
Five of the 19 surviving Little Sisters of Hoboken, a one-time missionary order that ran a leper colony on an island south of France, discover that their cook, Sister Julia, Child of God, accidentally killed the other fifty-two residents of the convent with her tainted vichyssoise while they were off playing bingo with a group of Maryknolls. Upon discovering the disaster, Mother Superior had a vision in which she was told to start a greeting card company to raise funds for the burials.

Geezers (Comedy/Drama)
April 1, 2, 8, 9 at 7:30
April 3, 10 at 2:30
Geezers introduces us to some beautiful and wonderful old people who are enjoying their golden years in a retirement home. Jack, a pathologically shy, 27-year-old man, begins a job there helping the seniors with their daily needs. But it's the "geezers" who wind up helping Jack with his needs. On his road to an epiphany, Jack learns from the old folks that he must break out of his comfort zone to achieve anything in life. Jack learns to crawl—then walk, then fly—with a wise group of mentors guiding him along. A funny, heartwarming drama about growth and wisdom, learning and loving, life and death.

39 Steps (Comedy/Parody)
June 3, 4, 10, 11 at 7:30
June 5, 12 at 2:30
Mix a Hitchcock masterpiece with a juicy spy novel, add a dash of Monty Python and you have the intriguing, thrilling, riotous and unmissable comedy. The show hurtles a notorious fugitive and a spellbound blonde from a London music hall north by northwest to Scotland's most remote highlands. Will they save Britain from a den of devious spies? A cast of four actors plays over 150 characters in this fast-paced tale of an ordinary man on an extraordinarily entertaining adventure. The 39 Steps contains every single legendary scene from the award-winning movie — including the chase on the Flying Scotsman, the escape on the Forth Bridge, the first theatrical bi-plane crash ever staged and the sensational death-defying finale in the London Palladium.